UK lung deaths 'twice EU average'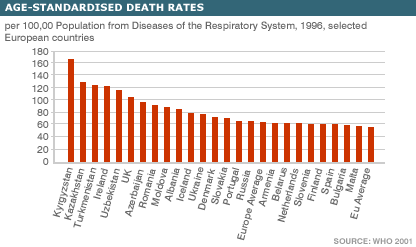 A greater proportion of people die from lung diseases in the UK than any other EU country except the Irish Republic, a report has shown.
The death rate from respiratory diseases in the UK is 105 per 100,000 people - twice the EU average.
The only countries with a higher rate are former Soviet Union countries - Kyrgyzstan, Kazakhstan, Turkmenistan and Uzbekistan - and Ireland.
The figures are published by the European Respiratory Society, which is calling for concerted action.
These statistics are shocking.
Dr Edmund Neville - The data shows that illnesses such as lung cancer, asthma, pneumonia and chronic obstructive pulmonary disease are now killing more people in the UK than coronary heart disease.
Respiratory diseases are now the most common long-term illness among children and the most common illness responsible for an emergency admission to hospital.
It is thought smoking, and environmental factors, such as pollution and the cold, damp climate, are among the factors that are to blame.
The problem is compounded by a relative shortage of respiratory specialists in the UK.
The ERS report also reveals:
More people in the UK - 5.1 million - suffer from asthma than anywhere else in Europe.
The UK has the highest mortality rates from pneumonia compared with any other European country.
The UK has the second highest death rate from lung cancer (66 per 100,000 people compared to a European average of 45.9 per 100,000).
The report also predicts that by 2020, COPD (which includes illnesses such as emphysema and bronchitis) is likely to account for over 6 million deaths worldwide - making it the third leading cause of death.
Twenty times as many people died from COPD (30,634) than from asthma (1,521) in the UK in 1999.
Economic cost
The report, the European Lung White Book, estimates that respiratory diseases cost Europe nearly 102 billion Euros a year.
In the UK, respiratory disease costs the NHS more than any other disease area.
The economic cost of production losses is estimated at £3,194 million per year and the Department of Social Security said in 2000 that 28 million working days were lost due to respiratory related illnesses.
Professor Walter McNicholas, European Respiratory Society president, said respiratory diseases had a low profile, despite being a major killer.
He said: "Although the highly prioritised diseases in government target areas such as heart disease and cancer are showing real progress, others such as respiratory disease are continuing to be ignored.
"Governments around the world must widen their vision to include lung disorders, which are responsible for more than 9 million deaths worldwide each year."
The ERS is calling for Europe-wide education programmes on the symptoms of lung diseases, and more training for health workers.
Dr Edmund Neville, chairman of the British Thoracic Society, called for a national service framework for respiratory diseases.
He said: "These statistics are shocking. Britain has been left wheezing at the bottom of the European lung health league for many years.
"Respiratory disease is not being given the national priority it warrants from the huge burden it imposes on both patients and the NHS."
A Department of Health spokesperson said it was down to local trusts how record levels of investment in the NHS were spent.
GPs had been given new targets to ensure high quality treatment for people with asthma, and a national service framework for people with long-term conditions would be published later this year.