In & Around the Old Market Town of Tamworth
This page updated 24th June 2010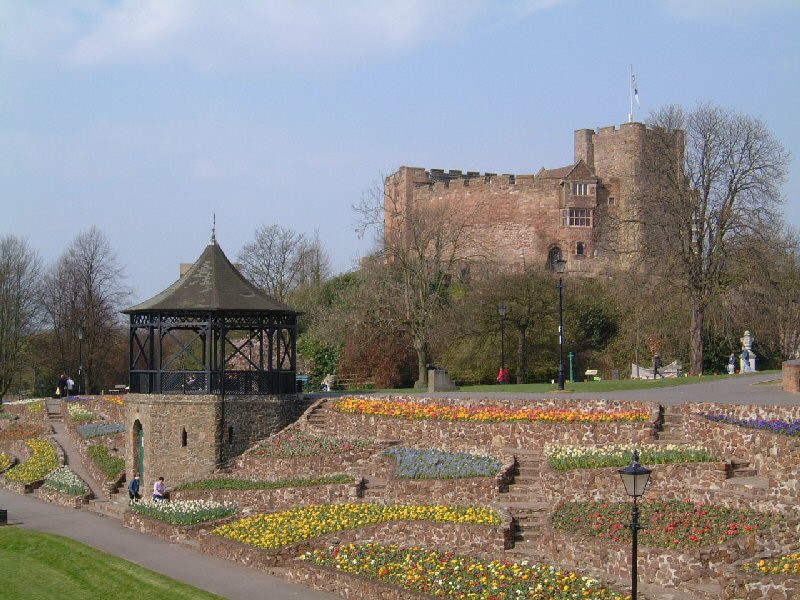 Did you know ...
that Tamworth was the capital of Mercia in the reign of Offa (757-796AD) and is one of the oldest Boroughs in England?
that we have (or had) the largest natural collection of swans in Europe
that we have one of only two largest Parish Churches in England and it has a double spiral staircase - the only church in England to have such a staircase as I understand it.
that Tamworth has been voted the "Top City/Town in the UK to retire to!"
- as per Yours Magazine, issue 83 - March 2010
If anyone can confirm/deny any of the above then please let me know.
We used to have a Swan Warden but alas I think, no longer!
Please fill in the Feedback Form if you have any information to share with us on or about Tamworth and would be happy for us to include it on the site.
For more facts on Tamworth visit the Tamworth Council web site, and for the Castle, visit the Friends of Tamworth Castle web site.
Click on any of the highlighted links below to find more information
To view a larger version of the photos, just click on the photo in question.
Hovering over the photo should pop up a brief description of same.
War Memorial - outside St Editha's Church
Town Hall with the statue of Sir Robert Peel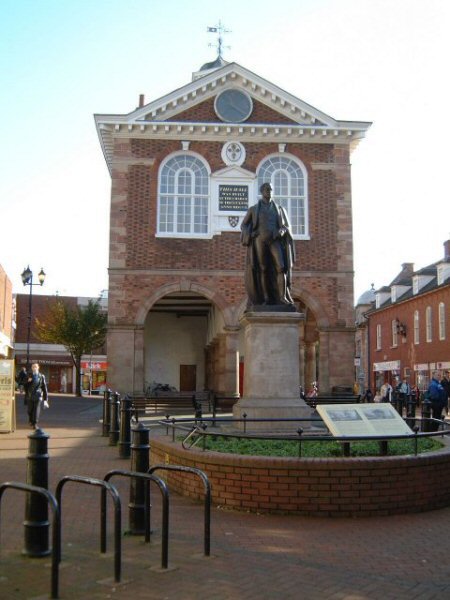 History of Tamworth Castle
Why not take a few minutes to read a short article on the History of Tamworth Castle?
The Castle have various functions throughout the year and details can be found via the Council Website ot the Information Centre in Market Street
Art work in the Castle Grounds
Take a stroll through the Pleasure Grounds and view the Planets - a series of artworks. Here we have a few of the items on display.
Sir Thomas Guy and the Almshouses
Thomas Guy became the MP for Tamworth in 1695, but lost the election in 1707 and later moved to London where he built the famous Guy's Hospital. It's said he went to London and built the hospital there to spite the people of Tamworth for not re-electing him their MP!
The houses were erected in 1673 on a piece of land at Lower Gungate purchased by Thomas Guy. The Alms were erected to house seven poor Women. Guy later erected accommodation to provide for men at a cost of £200. Some of the rooms were rebuilt in 1827, but the whole site was demolished in 1913. New almshouses were built on the site and retained the name.
Over 50's Clubs
There are a number of things to do for the Over 50's and retired people, and you can find information from various places. One such club is the Tamworth Friendship Centre, and details can be found on their website. they have a 10pin bowling morning which is good fun!
Similarly, there are Bowling Clubs, one such being The Spital Bowls and Tennis Club on the corner of Wigginton Rd, and further details can be found on their website.
There are other clubs and acrivities and details of these will be listed in the library and Information Centre.
Tradesmen & services we've used and can recommend
I've listed here tradesmen/contractors I have used personally and have been satisfied with the standards of their work.
Please mention where you got their contact details if and when you contact them.
Clock repairer - Austrey Antique Clocks, Kevin Skates on 01827 830340
Builder - Shane on 01827 65625
Tiler and Roofer - M Tallis on 01827 286494 or 07944803955
Fencing and Landscaping - Classic Landscapes - Stuart - 01827 54764
Electrical work - Elec-craft - Roy on 01827 302963
Roofer - Felt roof on garage - Danny Maclaughlin on 01827 383378
Garage - MOT, Service &/or repairs - Ashby Road Service Station - 01827 64459
An item that may be of use to a number of you is one of what Hostelries are available in and around Tamworth.
If you have other experiences of eating in and around Tamworth, then feed them back for inclusion of a new page "Where to eat in and around Tamworth".
Here is a list of some of the places we &/or friends have visited in recent times, with a short comment on the various experiences;
The Wigginton, Browns Lane, Tamworth, B79 8TA, Tel: 01827 768454 - Fixed Pub menus which are liked by friends who've been there. They do a Carvery on Sundays which we're told are good.
Pretty Pigs, Amington - Carvery Meal not as hot as it could have been with some veg overcooked. Quality is very variable.
Red Lion, Hopwas - Friendly and Good Food
The Globe, Tamworth - Reasonable choice although seem to sell out of the "specials" within minutes of opening!
The Riftswood, Comberford Rd, Tamworth, Tel: 01827 62785 - A Sizzling Pub serving good food at reasonable prices and reasonably priced Ales! A pint of Pedigree here is £2.20 a pint as of June 24th 2010 - see Appleby Inn below and their price!
A Chinese Buffet in Silver St - the name escapes me - serves a nice lunchtime buffet, but the last time we were there (May 2010) it was possibly not as hot as it could be, but enjoyable!
Unicorn, Orton on the Hill - Not been there for a while but friends tell us it's quite good
The Wolverston - Found this place short on service and expensive for what it serves. It was 2-4-1 but the meal costs were expensive to start with! Not sure what it is today as last went there early 2010. Slow service.
The Appleby Inn, on the A444 at Appleby Parva. Nice food, not cheap, and a pity about the Ale prices! Pedigree here is £3.00 a pint as of June 24th 2010
Tame Otter, Hopwas - Told they have good Fish & Chips
The Fox Inn, Lichfield Rd. - Good food but can be busy. Disappointed that the manager didn't respond to a lunchtime booking request recently, hence we went elsewhere!