Today's Date:
This page updated 3 September 2018
What is Cryptogenic Fibrosing Alveolitis - CFA ?
CFA (also known as idiopathic pulmonary fibrosis) results from injury to the lining of the lung, causing inflammation, further injury and scarring. Scars serve a good purpose on the skin where they heal injured areas. In the lung, scar tissue stops the lung performing its normal function of taking oxygen from the air into the blood and removing carbon dioxide from the blood.

Who can get CFA?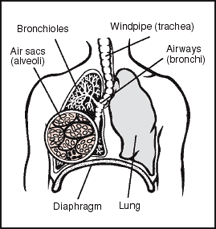 Diagram shows a lung with enlarged alveoli
CFA cases seem to be rising, but it is not clear why. It affects men and women of any age equally, although it is most common among people in their 50s. We do not know what causes CFA. However, we do know that it is not an infection, that it cannot be caught from others and is neither a form of cancer nor cystic fibrosis. Exposure to certain occupational dusts (such as asbestos, hard metal alloy) can produce the condition and most people with CFA are or have been cigarette smokers. However, for most people the specific cause or provoking factors cannot be identified. Drugs can also scar the lung, but this is not CFA. Occasionally, the disease occurs in families, but the genetics for this remain unknown, as it does not occur in a predictable fashion.
Symptoms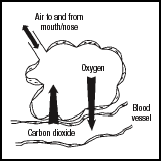 Diagram shows Oxygen CO2 exchange
The most common symptom is breathlessness, particularly on exercises like walking up hills or stairs. Because CFA may come in the mid 50s, people may attribute it to middle age. One cannot assume that the onset of breathlessness is merely part of ageing. It has to be investigated otherwise the condition will often worsen and lead to permanent and progressive breathlessness.
Less common symptoms include a dry cough, while many people may notice a change in the shape of their finger and toe nails. Occasionally the first indication of CFA may be abnormalities seen on a chest X-ray conducted for some unrelated reason.
How is CFA diagnosed?
Although many cases go undiagnosed, CFA is one of the less common lung diseases, affecting 1 in every 5,000-10,000 people. This means your GP will see few or no people with it, so cases have to be referred to a specialist. These investigations usually include a chest radiograph and breathing tests on a series of machines to assess how well the lungs are working. Blood tests are usually performed. A special form of X-ray (known as a CT scan) which produces a three dimensional picture of the lungs may be requested. It may be necessary to obtain samples of lung tissue for examination in the laboratory. This is usually done by bronchoscopy, which involves passing a small flexible telescope down the breathing tubes whilst the person is lightly sedated. For many people these tests provide the necessary information for planning treatment, but in some people a larger sample of lung tissue, taken by a surgeon under a general anaesthetic, is needed before treatment can be considered.
Treatment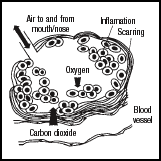 Diagram shows Lung scarring.
CFA usually requires treatment even though symptoms appear to be mild. This is because there is already substantial injury and inflammation in the lungs by the time symptoms occur. It is very important that the disease is identified and investigated at the earliest possible stage so that treatment to reduce progressive lung scarring can be considered at a time before it becomes severely disabling. It is widely recognised that treatment is more effective in CFA when it is given before extensive lung scarring has occurred.
The type of treatment which would be recommended depends on the results of the tests outlined above. The most common form of treatment is low-dose steroids and immunosuppressants. This means that these drugs suppress the body's defence mechanisms which are believed to be contributing to the disease but they can also result in increased susceptibility to infection. People who are taking these drugs will need to have their blood checked on a regular basis to make sure that they are not receiving too much treatment. Once maximum response has been achieved, the aim is to maintain the response while reducing therapy. A few people may experience side effects; therefore a very careful balance between the potential benefit of treatment and the risk of side effects needs to be weighed up before recommendations are made.
The need for treatment in CFA is usually life-long. This is because the condition is suppressed rather than cured in the majority of cases and the long term aim is to keep the disease suppressed on the smallest possible dosage of treatment. Very occasionally drugs may be discontinued completely but this is the exception rather than the rule.
This article was reproduced from the British Lung Foundation's site and for further information on Lung Diseases and ways to help, then why not visit their site.